Pay-Per-Click Advertising
In this day and age, any information or product you need is at your fingertips - all you have to do is type what you're looking for on your computer or phone. The result is that hundreds or even thousands of websites pop up that may or may not be what you're looking for. Well, those websites at the top of your search list didn't get there by chance.

Optimizing your SEO can bump you up in the rankings, but sometimes you need more than that depending on your industry. That's where Pay-Per-Click (PPC) comes in. Your SEO may not land you on the first page of search results, but your link could still appear there if you utilize PPC – not to mention that you could produce a great ROI.
PPC sounds simple enough, but many details come into play such as:
Keyword optimization needed for each campaign
Timing of ad groups
Budget
Multiple social and web platforms that utilize PPC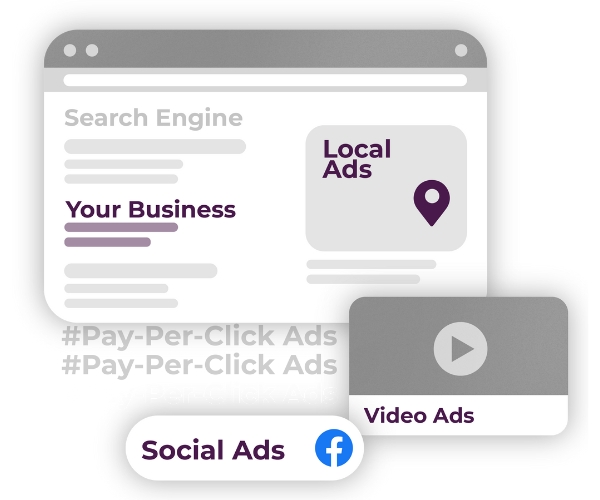 Some of the benefits of PPC include increased web traffic and the potential to gain conversions, with the end goal being to eventually sell your product! Additionally, you will see results almost immediately.
You want to get your money's worth and there are several ways to do that through PPC. While you can try to get your company front and center on Google, it is also helpful to utilize PPC on social media. This can increase your click-through rates and allows you to target certain audiences more effectively. You can also do this through retargeting as it intertwines with social media PPC. Retargeting is an attempt to get customers through the sales funnel, with the ultimate goal of converting them into a customer.
Some of the top platforms for PPC are:
Facebook
Instagram
Google
YouTube
Pinterest
LinkedIn
The system can be confusing, and you might need help understanding the complexities of PPC. So, make sure you have a team to help you decide how you can utilize this tool most effectively.