Custom & Template Websites
Nowadays, giving your business a digital identity is more essential than ever.
Do you need a website that is basic and strictly informational? Or do you need something more complex that allows a high level of functionality and a long list of pages? Good news, it doesn't matter what you need – we can take care of it for you. To do this, we offer two options for building a website: custom and template. We can help you with every step of the process whether it be graphic design, written content, hosting, website maintenance and much more. Check out what we offer!
This is a great option if your time or budget doesn't quite give you enough space to invest in a custom site. These sites are designed to be simple, capable, and a simple way for customers to find the information they need. Our templates site can grow with your company, meaning you can always add and customize it at the pace of your business. Template sites include:
Brand-specific colors and font
4 pages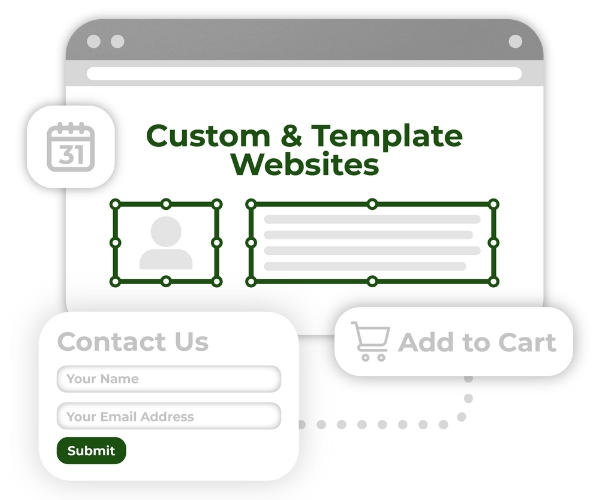 Investing in a custom website is highly recommended if you want to take your website to the next level. We can brand every aspect of your site while creating as many pages and components as you need. This will certainly make your customers confident in your brand, service/product, and will make you look even more credible to Google as we maximally optimize your content. This is an investment that is worth it. Just some of what is included in the custom website package is:
Customized design
Custom number of pages
Content writing
Multiple check point meetings
Our Website Design Process
Whether you're looking to build a website from the ground up or you're just looking for a refresh, it's important to know the value of your website and how it will benefit your business.
A good website is the core of online marketing, and all of your marketing strategies should have the goal of driving people to your website in hopes of converting them to customers. This is called conversion. Chances are if you have a bad website, your conversion rates might be low. Customers might find your website, but they won't be staying for long. The better your website is in terms of branding, colors, fonts, function, content, SEO, and automation, the more visitors you can potentially convert into customers.
It's important that you find someone who is invested in making your website look beautiful and function effortlessly. That's what we're here for – we want to offer our experience and perfectionism to make sure your website goes above and beyond your expectations.
If this sounds like something you could use help with, contact us or check out the difference between our custom and template websites below!
Minimally Customized Design
Brand Specific Colors & Fonts
1 Checkpoint Meeting
Pages limited to: Homepage, About, Services, Contact w/ basic form
Up to 3 social media links
Minimally Optimized (Title tags)
Joomla! Custom Mobile Friendly Responsive Site Creation
Joomla Site (content management)
Initial SEO Configuration of Google, Site Map