Keep your business running with minimal downtime.
Even if you consider yourself to be a small business, you probably have a lot of data – and it's all important. There are so many companies that don't backup their data, do so infrequently, or make copies but keep them in an insecure location which can lead to a lot of frustration later on. Backups are crucial but can be complicated and time-consuming without the right tools.

Just like it's always good to have multiple backups plans, it is also beneficial to keep your data in multiple locations in addition to the original source. This way, if anything happens to one copy, you can rest assured that you have an extra copy.
Local Backups
There are several different types of devices and media on which to store local backups. The type and the amount of data you have will help you determine the best way to store it. Localized copies of your files, email, databases, contacts, etc. will allow you quick access to it should you accidentally delete a file or overwrite it in your primary storage location. These backups can be scheduled to automatically occur on a daily basis, or even more frequently if needed.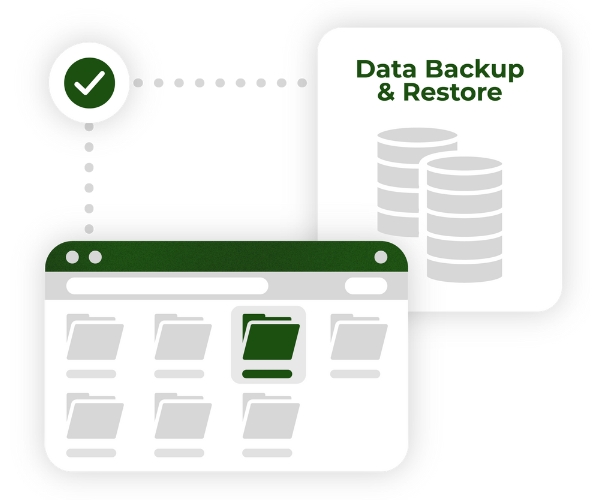 Remote Backups
If you want to keep your data safe in the worst conditions, storing it in a remote location is one of the best ways to ensure that this happens. While local backups are useful and recommended, off-site backups ensure that even in the worst disasters, such as flooding, fire, or theft, your data will be available to restore at a new location.
Restore
Lastly, don't forget to test your backups before you need to restore! Far too often, people think that their backups have been made, only to find out when they need it most that their data has not been backed up at all. We highly recommend that you plan to check your backups each quarter, at minimum. If you need help we are happy to help you put together a plan to ensure your backups are tested regularly.
Let us help you create a safe and secure backup your extensive and valuable data. We can help you determine the best combination of technologies to keep your data functioning where and when you need it most. Click below for questions or to schedule a meeting with our team.