Remote Monitoring Packages
With remote monitoring, our team can assist you without the need for an in-office visit. This allows us to provide solutions quickly and effectively with the added benefit of continued monitoring so we can proactively respond to necessary system updates and other potential issues. Our remote monitoring package includes the following:
Remote Access
We have remote access to enrolled computers for tech support purposes. This also includes access to files, running processes, background services, and other troubleshooting items without interruption in many cases.
Automated Checks
Desktops, laptops, and servers are automatically checked for hard disk health, memory and Central Processing Unit (CPU) usage, events in Windows Event Log, or for individual computer troubleshooting.
Windows Patch Management
We believe that security is important and one way to stay on top of it is to keep your system up to date. With Windows Patch Management, we can make sure you receive the proper updates in a timely manner.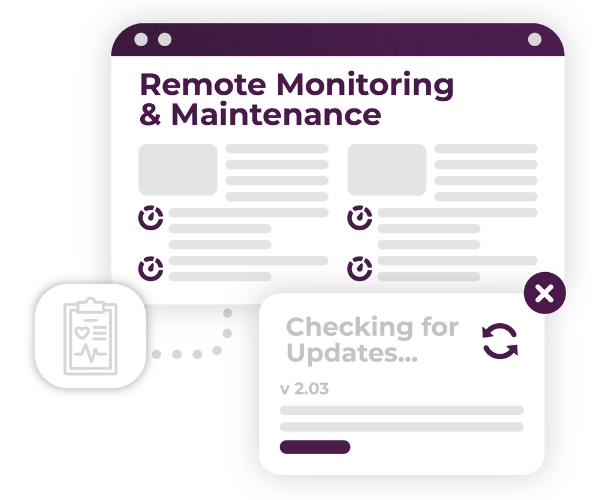 Third-party Application Patching
Instead of allowing employees to choose what 3rd party applications (i.e. Chrome, Firefox, Adobe Reader, etc.) are or are not updated on their computer, we run automatic updates on a schedule in the background.
Scripted Access
With scripted access, our team can run common commands/functions in the background when needed, even on a scheduled basis.
Anti-Virus
We make sure anti-virus is installed and up to date on all computers. We monitor your anti-virus for any notification issues or trends, and then promptly remediate.
Web Protection
Automatically have known malware, phishing, inappropriate, or productivity-decreasing sites blocked. Any employee can be periodically monitored, so this allows us to report on both blocked and unblocked websites visited.
Month-to-month
No long-term commitment
30-day cancellation notice needed
Billing based on systems monitored